I've put this off a bit in part due to my holiday travel schedule, and in part because of the absurdity of it all, but I think it's time we sat down and had a little chat about the movie, Avatar.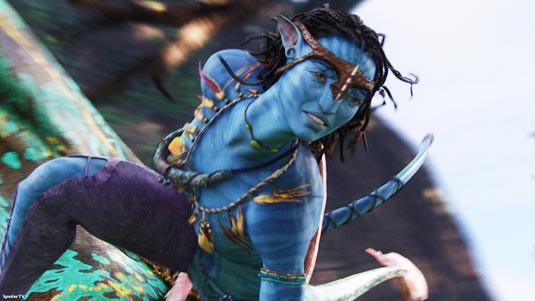 The film has already been reviewed by a couple prominent libertarians already, each holding decidedly different views.  I want to talk about them in a moment, but right up front, I want everyone to know that this article isn't meant to be a review per se and it might just contain some spoilers... But mostly, I want to discuss a topic few people are likely to cover:  The Economics of interplanetary conquest in Science Fiction. 
If you're planning on seeing the movie and are going to be bothered by me giving away key plot elements, I'd recommend putting an end to your reading at this point.
* * * * *
With all that in mind, let me touch on the views of Peter Suderman and Stephen Kinsella on this movie and its relationship to political philosophy.  The fact that Avatar is a deliberately political movie isn't exactly a secret, especially with a few choice jabs (obviously directed at the Bush administration) regarding preemptive strikes coming from the stereotypical military commander.  As Roger Ebert notes, it is anti-war - which of course libertarians of all stripes will appreciate - but it's also got the sort of Fern Gully style environmentalism attached, which is what I want to discuss as the main flaw in the film, undercutting any sense the rest of it might have made otherwise.  
So what do the libertarian reviewers have to say?  Well... In his article Blue Man Group, Peter Suderman - who mostly gets it right - writes:
"...the Na'vi, the movie's marble-skinned alien natives, are easily the most convincing humanoids ever to leap forth from a Hollywood effects house's CGI server-farm — that is, at least in terms of the way they look and move. The realism stops, however, every time they open their mouths and reveal themselves to be crude, one-dimensional native stereotypes: instinctive and animalistic purveyors of cheap mysticism and nature worship...

That Avatar's melodramatic attacks on corporate interests and its defense of simple, natural living come packaged as one of the most expensive, and probably the most technically advanced, corporate films in history would seem to indicate that only quality bigger than the movie's stupidity is its head-in-the-clouds hypocrisy. Cameron's made a movie that he intends to be epic and awesome, but the only thing that's awesome here is his total lack of self-awareness."
All true, though I think it's worth noting that Roger Ebert and, perhaps more importantly, my roommates don't mention the corporate interests at all and primarily see the villain as the military.  This makes some sense, considering that the corporate executive (played by one of my favorite character actors, Giovanni Ribisi) is mostly comic relief playing mini-golf in an office, and the facially-scarred military commander is the one calling most of the brutal shots as he barrels through his little revenge story.
So Suderman may take it a little far towards the anti-corporate side, but Stephen Kinsella misses the point entirely...  In the Mises Institute blog, Kinsella wrote a piece entitled; Avatar is Great and Libertarian in which he claims that:
"...at its core it was very libertarian: it was about a group of people (the Na'vi) defending their property rights on the world Pandora from aggressors (the human invaders), and about one of the humans (a soldier named Jake Sully) deciding to join and help the right side. Sure, the movie has some stilted dialogue in parts, and a few cliched scenes (I liked how the evil military commander referred to their outrageous assaults on the Na'vi as "shock and awe," but his telling the troops that they would "fight terror with terror"--when the Na'vi had not really been shown to have done anything characterizable as terrorism--was a bit of a stretch in its attempt to dig at the current American "war on terror"), but overall it was great and fun, and libertarian."
Oi.  No...
No, let's just be clear on this point: Avatar is not libertarian.  At least it most certainly won't be viewed that way by any audience not looking for confirmations of their already refined libertarian principles.

Kinsella does what a lot of us do (especially the more optimistic among us) and finds only what he was looking for in the movie's message.  So I'm not sure I blame him, but the point he makes is completely nonsensical...  There's a grand total of one mention of property and it's in the form of a battle cry by the human infiltrator and it merely comes in the form of a generic "This is our land!" rally.  If you squint your eyes really hard and you twist your brain around all the ridiculousness, you can drag a morality lesson about the non-aggression axiom and property rights out of this film.  But, like Mr. Kinsella, you really need to be searching for it.
That said... I always try to understand what most people are going to get from a film and what the director intends to convey - not only what I personally want to take from a story.
As any film composer would tell you, a big aspect of the job description is being able to effectively get to the emotional subtext being conveyed to the audience.  In Avatar, the audience is meant to care about the Na'vi for their "peaceful", mystical, and harmonious connection to nature... And we're meant to hate the humans for their violence, rapaciousness and excessive consumption.
So we do.  
No one walks out of the theatre thinking, "Gosh, those Na'vi had clearly homesteaded that planet by using it and living there, and the human aggression can be stopped by careful defense of private property rights."  If we're lucky, they'll walk away with the general sense that war sucks and we should stop doing that all the time... But in reality, they're going to walk away thinking; "If only we could be more like the Na'vi, communing with nature and stop ruining the planet by cutting down trees, polluting and strip-mining... The world would be so much better!"
The fact is, we've seen this story for the last 30+ years in cinema.  And this story has had a profound affect on the attitudes and beliefs of people in my generation, since it's been told and re-told repeatedly, instilling a stupid set of poorly-reasoned, quasi-luddite beliefs in hundreds of millions of people around the world.  It's bad enough that the whole idea of spending hundreds of millions of dollars on the most technically advanced movie ever is paradoxical to that film telling the story of abandoning technology and communing with nature, but the foundation of the entire plot and thus its message is horrendously flawed primarily because the portrayal of basic human economic behavior is completely insane...  
So with that in mind... Let's talk about the exciting hobby of rock-collecting!
* * * * *
Like all the other movies of its kind, Avatar spins a wonderful tale that makes perfect sense once we completely gloss over the first premise.  We ignore that, pretend it doesn't matter and can care about all the characters and just let the events unfold as they do... I'm patently incapable of doing such a thing, so while I was watching Avatar, one thought kept popping up in my mind again and again:
"But what does the rock DO!?"
You see, the entire premise upon which all of the action in Avatar rests is that the humans simply MUST have this wonderful rock, unimaginatively called "Unobtainium".  Yes.  That's right... I said Unobtainium.
For those of you who suspect that this might be some kind of inside joke.  It is.  In the sense that every writer on the planet uses words like that as a placeholder until they use their creative imagination to come up with a better name.  Simply put, what James Cameron wrote was just about as lazy as you could get (also approaching this level of laziness was calling the planet "Pandora" and the natives "Na'vi").  But so fine, the rock has an idiotic name.  What's it's purpose?
As near as I can tell... Nothing.
Well ok, not quite "nothing", the rock is a MacGuffin.  It's the reason d'e'tra for the humans to be cool with killing thousands of the sentient native inhabitants of planet Pandora.  It's also, according to the film, worth $20 Million per kilogram (and $40 Million once it's been refined, according to other sources).  As Alfred Hitchcock noted upon coining the term "MacGuffin", the audience could care less what the object is - and in the case of Avatar, that concept could not be better illustrated.  For most people, it doesn't matter why there's a war between the humans and the Na'vi, just like it doesn't matter why they're on the planet to begin with - not really.  Completely generic "greed" is the only answer Cameron gives, and for most people, that's more than enough...  After all, we all know that human beings just do stuff like this cause they're evil!
I actually do care, not only because the fate of an entire fictional species was affected by it, but more importantly because these things actually play a role in how real, live human beings think about humanity, human nature and unfortunately, economics.  It's the continual reinforcement of bad ideas that results in a world where the mass public unwittingly clamors for their own destruction.
This is where a perfunctory knowledge of basic economics (and some science) comes into play in virtually all Sci-Fi of this type and could potentially save generations of people from sinking back down into the dark ages...  Let me lay out some facts & deduce some premises:
High price is always a reflection of limited supply compared to high demand.  Thus, we know that Unobtainium is immensely valued by (at least some of) humanity.
The humans in the Avatar future have enough energy & other physical resources to travel interstellar distances, cure spinal injuries, create super-human half-alien bodies from scratch that can be inhabited via wireless mindmeld, and to build an endless array of massive war machines, forest-levelers, guns, spaceships and colony-bases.  Thus we might assume that they have essentially conquered the energy crisis... In other words, we can deductively rule out Unobtainium as a mineral used in energy production. (Note that for energy to be as abundant in the human world as it would need to be to accomplish the massive levels of production seen on display in Avatar, the raw materials used in energy production simply cannot be tens of millions of dollars per kilogram.)
Unobtainium is a mineral.  Thus it is not useful for any of the other basic needs of mankind like food, clothing, shelter, etc.
Unobtainium as depicted & explained in the movie is available on other planets and asteroids, and is found all over Pandora - though we are told it is most concentrated where the Na'vi live.  Thus, fighting a war is unnecessary to acquire the desired raw material.
The Na'vi have no interest in letting humans dig up Unobtainium from underneath their big treehouse.  Thus, obtaining the mineral from that area will require a war.
The acquisition of Unobtainium is being handled by some variety of "corporation", with the backing of the Marines or Marine-like mercenaries, for profit....  Thus it is reasonable to assume that, in general, the corporate interests' goal is to acquire as much Unobtainium as possible at the lowest cost possible.
Wars cost a lot.
So that's some of what we know.  Since the movie never actually explains what the use is, the best or most plausible explanation I can come up with is that the rock is used in manufacturing or perhaps computer technology... 
As for the exorbitantly high price tag, there are two ways to approach that issue.
First, we might assume that demand is simply immense on earth, and suppliers cannot possibly meet production schedules.  Highly demanded goods in this sense are typically that of the products desired by a massive numbers of people.  Examples of this would include iPods, shoes, medication and other items that millions of people want or need but of which less than millions have been or are capable of being produced.  These must be, by definition, what economists call "final goods" - goods which are ultimately bought and consumed by consumers.

Unobtainium doesn't really fit that model at all - first of all, because it's a raw material which you're as likely to see being purchased at WalMart as a lump of coal.  And at $20 Million a kilo, it's not remotely affordable for the masses anyway...  
So the second option is to assume that the high price is due to an intrinsic limitation of supply.  This would more aptly fit the platinum or other precious metal model.  Platinum is one of the most expensive metals on Earth currently priced at about $48,000 per kilogram, and is the best analog I can think of for the fictitious metal in Avatar.  This suggests that Unobtainium is either purely a luxury item (i.e. made into engagement rings for the über-rich), or is used only in tiny quantities, perhaps as plating for microchips or on exceedingly expensive pieces of specialized capital equipment.  It's hard to say since Cameron gives us only one meaningful line of dialog on the premise, but it is decidedly more likely to believe that the mineral is physically scarce, but incredibly useful in some production capacity rather than something millions of people need to survive back home.  In spite of that deduction, the metal appears to be so useful that it is apparently worth killing thousands of people over... Really??
*UPDATE*
The "Avatar" Wiki describes Unobtainium as follows:
"Unobtanium proved to be the most baffling of scientific discoveries in the area of superconductors as it had an extremely strong magnetic field, reversing prior knowledge that all superconductors repel magnetic fields. Furthermore, unlike the fragile crystals of human-created superconducting compounds, the substance found on Pandora was a stable quasicrystal with its atoms arranged in a never-repeating but orderly pattern with fivefold symmetry. This structure was not only structurally rugged but also has mircoscopic voids in the quasicrytalline structure that contain the magnetic flux lines. Unobtanium has a unique magnetic field and properties of superconductivity, causing it to levitate."
So, James Cameron gives a predictably dumber reason - and as noted above, a ridiculously unlikely one, given the fact that humans are traveling in space and using unlimited energy already - prior to landing on the planet.
None of that explanation makes it into the actual movie, but even if it did, it actually makes no sense anyway, precisely because it is so incredibly expensive to acquire.  So it's one effective means of levitating a vehicle or powering a space ship?  Big deal... Are you actually going to buy a $40+ Million car?  I'm guessing not.  The ridiculously high cost of acquisition of this metal completely precludes it from being "useful" to humanity as anything beyond an oddity - especially since it's established that we have other means of getting across the galaxy.  
Imagine if crude oil was $20 Million per barrel, and if it was $40 Million by the time it was refined into gasoline... Would you be driving very much at $952,380.952 per gallon?  No... I think not.  The only way a material could command that kind of price is if it was insanely scarce, and using insanely scarce minerals is a patently ridiculous means of generating power.  There would never be enough to satisfy the needs of billions of people living in hovels, not to mention sending people on interstellar space missions...  So yeah, that doesn't work as a concept.
*/UPDATE*
And herein lies the conundrum that tanks the entire film before it even gets going.
But just for fun, let's take Cameron's premise as if it would ever happen, and accept that the reason humans expended massive amounts of resources to go to Pandora is purely to acquire this mineral (as opposed to, say, exploring a new world and engaging in legitimate trade and social contact with another intelligent life form).  Further, let's interpret the motivations of the military/industrial complex as purely "profit-driven".  When we do this, the movie makes even less sense!
To maximize profits, most people (and certainly most large business organizations) will try to work out the path of least resistance - as it is inevitably the least costly.  Remember that while 1 kilo of Unobtainium might net a massive amount of revenue, profits are the money/wealth left over after paying overhead costs.  The best way to keep profits high is obviously to keep overhead costs low...
Know what doesn't accomplish that goal at all?  Massive, prolonged battles with locals who kill your personnel and destroy most of your stuff!  You know what does?  Mining all those parts of Pandora (and asteroids and other planets) where the Na'vi aren't living already and won't get in your way at all.  Or... You know... Not going at all.
So just from a basic profit-seeking standpoint, going after the "mother lode" which is well protected and which resides beneath a large and hostile civilization of native peoples makes no sense at all.  Starting a war is, contrary to popular belief, really... REALLY bad for business.  It's only "good" if you're profiting from supplying weapons - but that is quite obviously not the case here since you can only lose money by fighting yourself.  Other people have to be the ones fighting if you want to profit from a war, you must only sell them a continual stream of replacement weapons...  Obviously, a company can't sell *itself* replacement weapons as all that does is hemorrhage resources all the way to bankruptcy.
Furthermore, the costs aren't only monetary.
The decisions the corporate/military interest in Avatar made to get at one highly valued rock cost a tremendous amount of human lives - not only those killed by the Na'vi, but by the wild animals in the forest and the toxic atmosphere of the planet... Many lives are also probably lost to space travel itself and some friendly fire/on-the-job accidents.  Each one of these lives comes at a social cost to the company as well since they are going to have to notify family back home on Earth, and it's reputation becomes increasingly tarnished.
As the reputation grows worse, the cost of compensating employees goes up as well, as finding replacements becomes more and more difficult.  
No, even if you take the whole series of events as given, and you look at the company as a completely amoral or immoral entity, the cost of doing business this way is insane...  The company is just sacrificing profits to engage in a completely unnecessary interaction with an alien species who don't want them around.  Of course, the joke of that is, if the company executives actually behaved like people looking to profit, there would have been no need for them to have committed untold billions in R&D to creating the Avatar program - and then we have no movie at all.
Now.  All this is purely from the standpoint of the worst-case scenario, where not a single person involved and definitely not any of the management in the company or the military have anything approaching reciprocal morality.  Human history has certainly shown a remarkable tendency to justify a lot of atrocities, but there are what appear to be many hundreds, or perhaps several thousand humans living on Pandora.  Not a one of them recognizes that the Na'vi have comparable intelligence and intellectual & communicative faculties to humans?  Not a one of them views the Na'vi as sovereign individuals instead of worthless savages? 
C'mon. 
The stupidity just keeps on going though - The corporate CEO says they offered to barter with the Na'vi - obviously showing that they recognize the indigenous people as A. intelligent, and B. rightful owners of the Unobtainium and other natural resources.  He then proceeds to appear to be baffled as to why they wouldn't trade their ancestral home and displace their entire population in exchange for a couple of ESL Schools and unneeded clothing.
Really?  That's surprising?  I'd like to have been there at that negotiation:
CEO of Evil, Inc.: "We've discovered that underneath your 500' tall tree, which we realize is home to thousands of your people, there is a massive deposit of a mineral we would like to acquire."

Na'vi Ruler: "Why do you want the mineral?"

CEO: "It's worth a lot to us."

Na'vi: "Ok, well our home is worth a lot to us...  So what would you offer for us to allow you to take some of this mineral?"

CEO: "Uhh...  How about a school to indoctrinate you with our customs and language?"

Na'vi: "Yeah... Umm... No... That doesn't sound like a good trade."

CEO: "Whaaaaaaaa???  Why not!?"

Na'vi: *Facepalm*

CEO: "I guess we'll just have to have to start a hugely expensive war then"

Seriously though - when you think about it... This is exactly what Cameron wants us to believe.  But this is why understanding the economics and human behavior behind the movie is actually so important.  If you ignore these fundamental problems, the rest of the movie makes absolute sense...  The Na'vi defend their homes, the military tries to destroy them, everybody fights, the infinitesimal group of humans who side with them are heroes, and it's all done because the military is full of jarheads and corporations are greedy.
Perfect.  Greed kills again.  But why? 
If you stop to ask the only question that mattered; "Does the premise make any sense?", the entire plot falls right apart.  If the company were really greedy it wouldn't have wasted it's time dealing with the Na'vi at all, it would have done everything possible to avoid them - and avoid paying for a war or hiring wasteful Marine mercenaries, avoid building the stupid Avatar bodies, avoid creating 15' high mechanical armor suits, and would have picked as much Unobtainium as possible from the easiest places possible.  If none of that were possible, then the cost of acquisition vs. the utility and demand for Unobtanium would skyrocket, and the company would be better of figuring out how to lab-create the damn thing like cubic zirconia.  If you actually understand the economics of all this, one thing is abundantly clear: There is *no* profit in what happened on screen.
The natural response to all of this is of course, "Who cares?  It's just plot-holes in Hollywood movie... Nothing new there, right?" 
True enough.  But I obviously do care, primarily because this is yet another incredibly well-made example of a film that hangs a hugely negative message on a terrible premise.  Avatar shows contempt for humanity in general and for what most people view as "capitalism" (though it is actually just classic corporatism).  That message is conveyed nicely, and in a way that yet again buttresses people's ignorance of economics and further inhibits critical thinking.  I view this as a bad thing in general.
So yeah... I encourage everyone who's seen Avatar to stop for just one moment and ask yourselves one simple question: What does the rock actually do?
Underneath all the fighting, the destruction, and even the whole body transfer concept itself lies one of the flimsiest premises of all time.  Without thinking about this one little thing, the movie - and half of it's political point of view (the part where we glorify living like cavemen in loincloths and trying not to be eaten by monstrous beasts) makes perfect sense - but if you just take a moment or two to look under the surface, the entire story falls to pieces.
* * * * *
[PS: Standard Libertarian Disclaimers all apply... Human activities on Na'vi as written are indefensible.  The planet's inhabitants own the planet, not the humans - thus, using force to take their resources is theft and should not happen.  The point I'm making is not to defend the theft or the aggression, but that based on the story as written, the theft & aggression makes exactly no sense.]